Scared by the whole idea of an original drawing? How about some colouring in? You can do that!
Have a look at

colourme_hp
for lots of line art just waiting to be coloured in. There's some very sweet pictures in among all the NC-17 stuff!
Either colour it digitally or print it out, use whatever traditional media you prefer and then scan the completed image back in. Fun for all the family!!
Here's my attempt: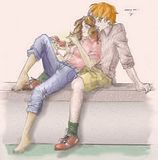 And here are some of my favourite line arts for you to pick from:
Bill/Fleur:
Walking and kissing.
Here's your chance to have a go at some scars. LOL
Sirius and baby Harry
The founding four
Luna